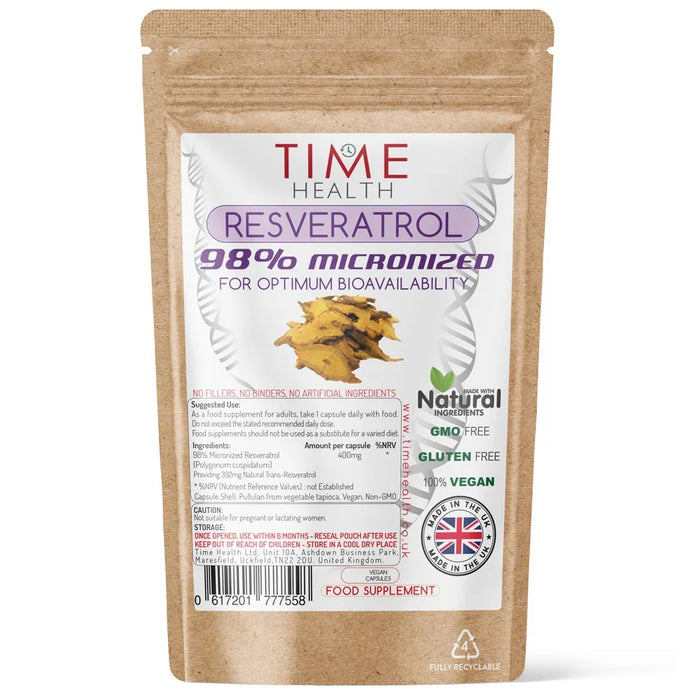 Resveratrol – 98% Micronized – Optimum Bioavailability – Pure & Natural Trans Resveratrol Derived from Japanese Knotweed – 3rd Party Purity Tested – Capsules / Powder
Original price
£22.99
-
Original price
£22.99
98% pure resveratrol, micronized for maximum absorption.
✔️OPTIMUM ABSORPTION AND BIOAVAILABILITY. Micronized resveratrol has unrivalled bioavailability, research shows that micronized resveratrol is absorbed several times more effectively than standard resveratrol. Due to its size, micronized resveratrol is can pass through the tiny mucous membranes, giving it unique properties.
✔️SUPER ANTIOXIDANT ACTION, IMMUNE & ANTI-AGEING SUPPORT. Resveratrol is a polyphenolic compound, naturally found in both red grapes and Japanese knotweed. Resveratrol has recently received a large amount of attention due to the mounting scientific research indicating the super antioxidant has numerous benefits for the body including its immune-boosting and anti-ageing properties.
✔️3RD PARTY LAB TESTED FOR PURITY. Our micronized resveratrol is one of the few on the market verified for purity. Our latest batch is 99% pure.
✔️UK MADE & HIGH QUALITY. This product is manufactured in the UK to GMP standards, ensuring the highest quality.
✔️100% VEGAN WITH NO FILLERS, BINDERS OR ADDITIVES. At Time Health we believe in clean nutrition which is why you won't find any nasty stuff in our products including any fillers, binders or additives, unlike some of our competitors.