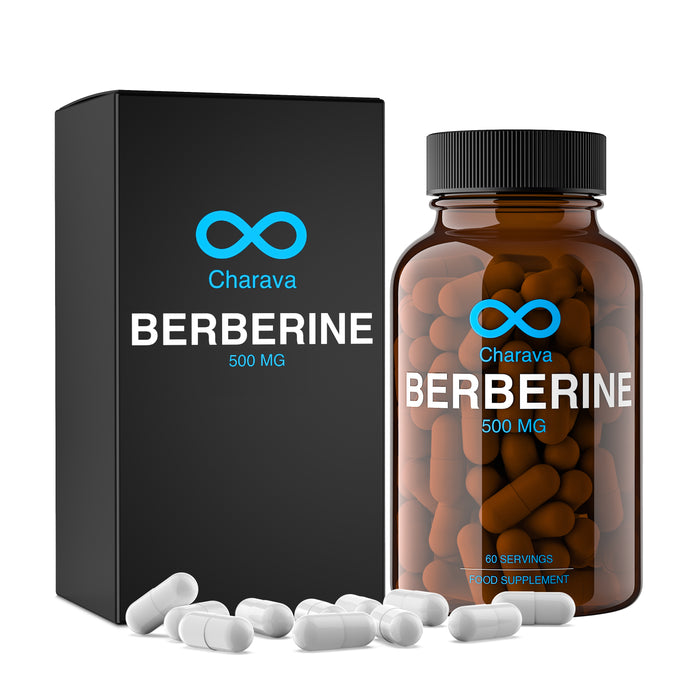 Charava Berberine 500mg
Original price
£24.99
-
Original price
£24.99
Berberine is a natural plant alkaloid found in goldenseal, barberry, goldthread, and Oregon grape.
This well-tolerated extract works at the cellular level to support healthy blood sugar levels already in the normal range, even after eating a meal or sugary treat.
Research shows that Berberine supports healthy blood sugar levels, that it maintains blood sugar levels before and after meals, and even supports healthy triglyceride levels, total and LDL cholesterol levels, and healthy blood pressure.

The 500mg dosage in Charava Berberine aligns to the researched dosage shown to support a healthy blood glucose response with each meal, among other benefits.
Generally used by customers as an alternative to Metformin.
Charava is dedicated to providing you with the nutritional supplements that you need to fulfil your healthy diet.
Key Ingredients:
500mg of Berberine per serving.
Each capsule contains 500mg of Berberine.
Inactive ingredients: Hypromellose (veggie capsule)
How to Use:
Take 1 capsule with or before meals, up to 3 times daily, or as recommended by your medical doctor.